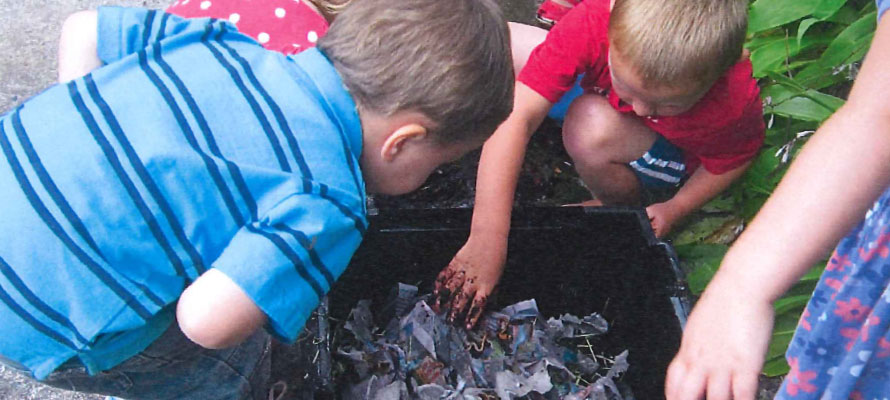 | | | |
| --- | --- | --- |
| | | With a real focus on the outdoor environment, both the children and the teachers at Kidsfirst Cashmere have been preparing for change of season in their vegetable garden together...and worms have been a major source of inspiration and interest. |
SOME OF OUR STORIES

Weeding, composting, mulching and planting at Kidsfirst Cashmere have kept the little gardeners very busy and they are now 'reaping what they have sown', literally!

Over the course of the term, there's been spinach, broccoli, lettuce and tomatoes for the children to cook and eat - sometimes in sandwiches and other times on pizzas.

But it's not always about the end result, sometimes the process is just as important and provides great learning opportunities.

A large part of the success of the garden has been because of the children's interest in their worm farm and the composting that goes along with it.

Xavier, a four year old at Kidsfirst Cashmere, is 'worm monitor' and each day when he comes to kindergarten he collects the scraps and checks that they're suitable for the worms.

Head Teacher Sandra Laffey says that he knows they don't like citrus, bread or meat.

She recalls him saying to her...

"I love these worms Laffey, they become my very best friends... because they help our vegetables grow."

When the teachers and children decided to use their compost on the garden, because the days were getting colder and darker and they felt the plants needed some extra help, there were concerns about what would happen to the worms if their 'farm' was taken away.

As a solution, newspaper and egg cartons were soaked and mixed with hay, so the worms would have a new place to compost after their old home had been removed and spread over the vegetable patch.

Xavier showed real leadership in explaining the solution in detail to the other children. Sandy says the children were all curious and interested in what he had to say...

"Laffey and I have soaked the newspapers and the egg cartons and I would like you all to rip them up into tiny little bits so it makes the worms happy to be in their new beds," he said. "Then comes the exciting bits - we have to find these little fellows very carefully from this compost which is their old beds!"

Sandy says the children were getting correct facts from Xavier who would only occasionally look at her for confirmation when he wasn't quite sure.

He further explained, "worms like the dark, so you have to find them cause they bury themselves right away down into this compost!"

It was a team effort as most of the worms were diligently found and relocated with great care.

Nature plays such a huge role in the kindergarten environment, and the opportunities in the garden at Kidsfirst Cashmere (as with many otherKidsfirst Kindergartens). These opportunities, combined with the worm farm, help children to understand that they can play an active and positive role in influencing their surroundings.

Working outside increases the children's environmental awareness, their empathy for other living things, their exploration of nature and their social skills, says Sandra Laffey, Kidsfirst Cashmere's Head Teacher.

It is these kind of learning activities that are a priority for Kidsfirst and a source of great enjoyment and satisfaction for the children.

ABOVE; HEAD TEACHER SANDRA LAFFEY WITH SOME OF THE CHILDREN PREPARING THE NEW HOME FOR THE WORMS.

QUICK READ

The garden and worm farm at Kidsfirst Cashmere provide great learning opportunities for children... as they do at other Kidsfirst Kindergartens.

The children are looking after the worms, making nutrient-rich compost and then harvesting the vegetables.

The sense of belonging and ownership that comes with looking after the kindergarten environment is a valuable lesson.
KIDSFIRST KINDERGARTENS ARE A NOT FOR PROFIT ASSOCIATION THAT HAS DEVELOPED AND MAINTAINED KINDERGARTENS IN CHRISTCHURCH, CANTERBURY AND ON THE WEST COAST FOR OVER 100 YEARS - AS THE PLACE LOCAL KIDS COME TO LEARN, PLAY AND HAVE FUN.