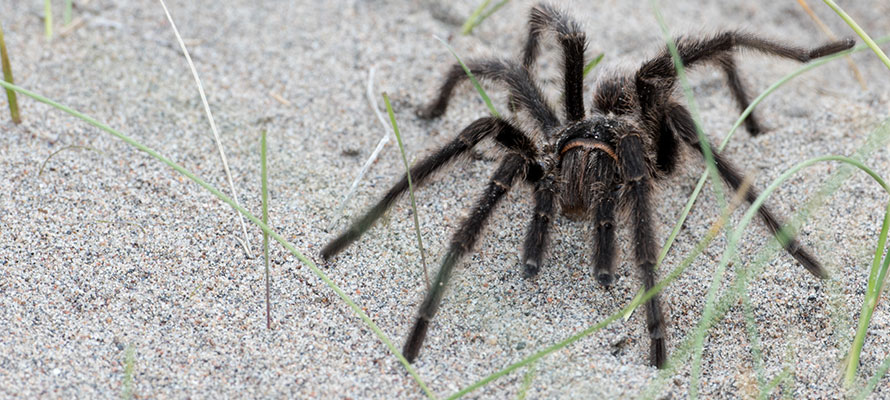 | | | |
| --- | --- | --- |
| | | A tarantula spider is a venomous fanged, hairy, scary creature, but really it would rather hide from you than bite you! |
OUR TOP STORIES

NEWS FROM AROUND

CENTRAL OTAGO

Tarantula spiders…frighteningly scary? Not for Kidsfirst Cashmere children who viewed these interesting arachnids up close in the Discovery Room at the Canterbury Museum, as part of their study into insects and spiders.

Discovery, is a natural history learning centre for children bursting wall-to-wall with fascinating, quirky creatures, skeletons of all shapes and sizes, bright iridescent butterflies and bizarre looking insects. Dig for fossils, explore glass-topped drawers with a view to a myriad of weird and wonderful exotic specimens, collected from around the globe. Or get up close and personal with a TARANTULA!

Following their investigation into spiders, Kidsfirst Cashmere children were thrilled to discover, not one but four live tarantula on display, in an interactive focus on spiders at Discovery. It included a larger-than-life (freakish-looking), captivating photographic exhibition of our eight-legged friends.

"The Discovery Room was a sensory explosion!" says Teacher, Hannah Scott.

On arrival, children had the opportunity to independently explore, play, create and investigate. Each and every different area offered a unique sensory experience for hands-on learning.

For naturally curious children, the interactive nature of the displays provide the perfect sensory stimulation to inspire inquisitive discussion - and a probing question or three - and along with that, a chance to develop their own working scientific theories about nature, animals, insects, spiders and fossils.

Hannah explains, "We were demonstrating being curious, reaching out, trying something different, asking questions, investigating and exploring our own ideas."

To add to the fun learning, Kidsfirst Cashmere Head Teacher Sandra Laffey and Teacher, Annie Barry had created a treasure hunt of items to locate. This was a great way to focus attention on certain points of interest and to bring everyone back together as a group.

Earlier in the day, there was time for some fun in the gardens.

The highlight of the day was hard to pinpoint.

Was it the Discovery Room - with the four, live tarantulas on display? The exciting, fun bus ride? Kai picnic-style in the Botanical gardens or climbing the low slung branches of the giant Sequoia trees?

After a huge adventure everyone was VERY tired, and ready to hop back on the bus and return to kindy.

"What a fantastic morning out, we couldn't have asked for a better day," adds Hannah.

QUICK READ

Kidsfirst Cashmere had a day of Discovery with a visit to an interactive spider exhibit at the Canterbury Museum, and saw not one, not two... but four giant tarantula on display.

FIVE SENSES
FOR LEARNING:

Sensory hands-on learning is not just for fun. Spending time stimulating the senses also helps children to develop:

cognitively
linguistically
socially
emotionally
physically
creatively.



SOME FACTS ABOUT TARANTULA:

- There are more than 700 different species (kinds) of Tarantula.

- Tarantula eat insects, beetles and grasshoppers. Sometimes the biggest eat lizards and even birds.

- The largest Tarantula, the Goliath Birdeater, has a span of nearly 30 cm.

- They are found in rainforests and jungles of America and Africa.

- They don't spin a web to catch their dinner but pounce on their prey and deliver a venomous bite.

- The bite is not venomous to people, but will cause swelling much like a bee sting.

- Tarantula live in burrows, lined with a layers of silk web. It has a dual purpose - to keep the burrow clean and free from ants, and (through vibration) to alert the spider to a potential passing lunch.

- Some spin a silk 'hammock' inside their burrow – a comfortable way to spend theday laying in wait for prey.

- Tarantula prefer to live alone. They are very territorial and if two tarantula are kept together in a tank, there will eventually just be one!
KIDSFIRST KINDERGARTENS ARE A NOT FOR PROFIT ASSOCIATION THAT HAS DEVELOPED AND MAINTAINED KINDERGARTENS IN CHRISTCHURCH, CANTERBURY AND ON THE WEST COAST FOR OVER 100 YEARS - AS THE PLACE LOCAL KIDS COME TO LEARN, PLAY AND HAVE FUN.