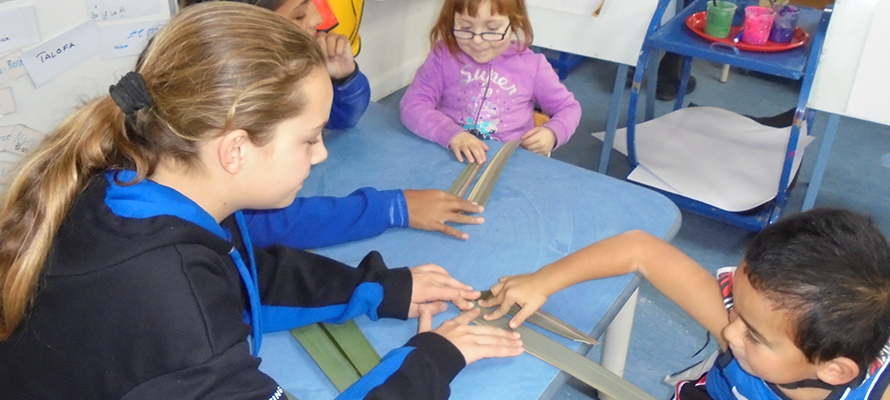 | | | |
| --- | --- | --- |
| | | Young children love the chance learn from older children and it's always great to see ako in action as different ages learn from each other... |
OUR TOP STORIES

NEWS FROM AROUND

CENTRAL OTAGO

Kidsfirst Northcote Kindergarten were delighted to welcome children from their closest member of the learning community – Casebrook Intermediate.

"We are very excited to have begun what will become an ongoing reciprocal relationship with the students and teachers of this school," says Teacher, Beth Hunia.

Beth explains, "after we attended a workshop which was offered at the Kidsfirst PLD Hui recently, we decided to make a conscious effort to connect and be an active member of the Northcote community."

This has begun to play out beautifully at the kindergarten.

A visiting Casebrook Intermediate drama class performed plays for an audience of enchanted kindergarten children and sparked a great interest in dramatic play with many children acting out the different characters.

The next visit was from a class of students who were learning how to make harakeke putiputi (flower). The older children learnt alongside the younger ones and as they practised and became more confident were able to then help the children.

This sparked an ongoing interest in harakeke weaving adds Beth, "the children's passion and enthusiasm was infectious and many of our parents joined in and shared their knowledge of weaving with us."

QUICK READ

Casebrook Intermediate students wove their community connection magic, performing to an enchanted kindergarten audience. And it was great to see ako in action on another visit to learn harakeke (flax) weaving.
KIDSFIRST KINDERGARTENS ARE A NOT FOR PROFIT ASSOCIATION THAT HAS DEVELOPED AND MAINTAINED KINDERGARTENS IN CHRISTCHURCH, CANTERBURY AND ON THE WEST COAST FOR OVER 100 YEARS - AS THE PLACE LOCAL KIDS COME TO LEARN, PLAY AND HAVE FUN.