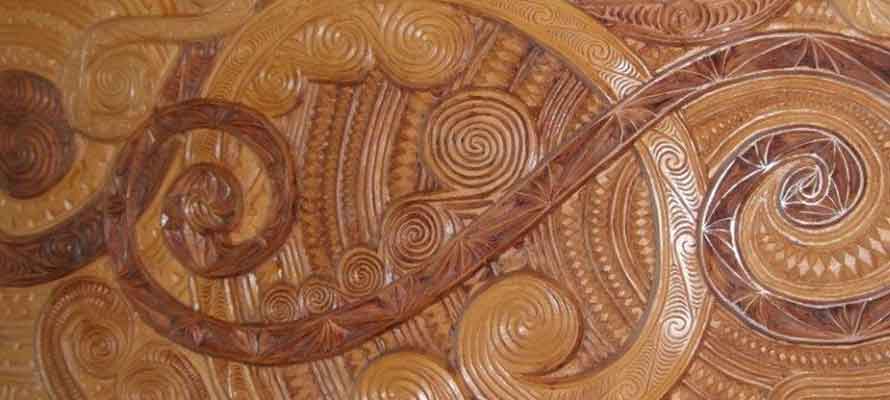 | | | |
| --- | --- | --- |
| | | Kidsfirst Ngaire Larcombe have been investigating a beautiful carving on their wall, answering some of the questions they had about this beautiful but mysterious piece of art... |
SOME OF OUR STORIES.

While it has often been admired, not a lot was known about the glorious carving that graced the Ngaire Larcombe kindergarten wall.

It transpired that the carver is Raphael Stowers,who is now a well known and respected artist in Christchurch and was involved in helping to create the artwork that is integral to the Public Library in Aranui.

This work was an early one of his, which he based on a painting by former Kidsfirst Ngaire Larcombe teacher Nadene Hunter (who now works at Kidsfirst Redwood).

Hers is the painting below.

ABOVE: Nadene's original painting

As you can see, the kākano (seeds) inside the carving represents new life. They grow to become the koru, representing growth, new life, harmony, peace, tranquility and awakening.

This koru entwines through the symbols of family, whānau and iwi. The Mangopare (hammerhead shark, a symbol of strength, courage, leadership and uwavering determination) signifies the unrelenting love, strength and partnership of whānau.

The other designs around the outside represent the various different iwi (or ribs) of the ancestors.

ABOVE: Raphael Stower's carving, proudly hanging on the wall at Kidsfirst Ngaire Larcombe.

QUICK READ

No-one was certain about the origin of a carving on the wall of the kindergarten.

It was created by Raphael Stowers, based on a painting by Kidsfirst teacher Nadene Hunter.
KIDSFIRST KINDERGARTENS ARE A NOT FOR PROFIT ASSOCIATION THAT HAS DEVELOPED AND MAINTAINED KINDERGARTENS IN CHRISTCHURCH, CANTERBURY AND ON THE WEST COAST FOR OVER 100 YEARS - AS THE PLACE LOCAL KIDS COME TO LEARN, PLAY AND HAVE FUN.