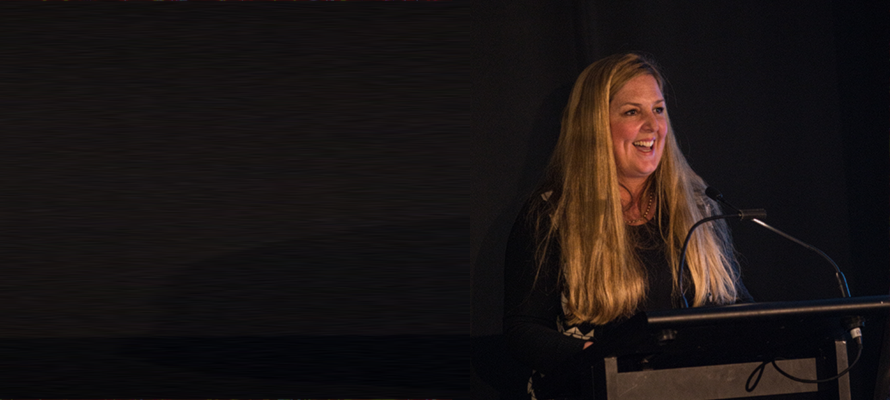 | | | |
| --- | --- | --- |
| | | "Kia ora koutou, good evening everybody..." Carolyne Grant, outgoing Board Chair, welcomes in our Kidsfirst 2016 Annual General Meeting... |
OUR TOP STORIES

"We really do appreciate you being here tonight. We have worked to make this event a celebration date in the Kidsfirst calendar, and tonight's turnout is a tribute to that. It always impresses me that Kidsfirst events have a strong level of enthusiasm and engagement, and I feel like we're seeing that more and more with each year that passes. It's tough to 'go the extra mile' on a Wednesday evening, thank you for being here.

In what was a year of new beginnings and regeneration for Kidsfirst, 2015 saw the official opening of two new services and the reopening of a much loved and long-standing one, with many more plans afoot as we continue to grow.

The year started with Kidsfirst Diamond Harbour Early Learning Centre opening to families from the start of term one, bringing the community a new, more sustainable service for children from birth to school age.

Our first new facility in over twenty years, it was a thrill to be joined the official opening by our Prime Minister the Right Honourable John Key. It was also extremely gratifying to go on to be acknowledged with an award for the facility in the Education category at the Canterbury Architecture Awards.

The opening of Kidsfirst Franz Josef Early Learning Centre was another highlight after a great deal of hard work by both Kidsfirst and the local community.

The sense of welcome we received from the community in Franz Josef, was overwhelming! The new Kidsfirst centre is literally cherished in this town, and it is a big reminder of just how important kindergarten is, and of the immense value it brings to the places it is a part of. It was a personal highlight for me as it reminded me of the strength of our 'not for profit status' and the ability to make decisions based on community need rather than commercial gain when we look at where we need to be.

It was wonderful talking to parents that day and hearing stories about how a early childhood centre like ours makes it easier to stay in the area for work, knowing that their children are safe and engaged at the kindergarten nearby.

This sums up everything we stand for - community involved right from the start of the process, with children at the heart of things. Kidsfirst - and indeed, the kindergarten philosophy - are long standing institutions in many neighbourhoods, and are highly valued by families and neighbours alike.


Both new centres were specifically tailored to fit local conditions and the needs of families, with emphasis on environmental friendliness and harmony. The level of thoughtfulness and responsiveness inherent in them is very much in tune with the kindergarten approach. This is a reflection of the work of our leadership team, ESMs and the individual teaching teams. It means every kindergarten is unique. While they may look and operate quite differently to the traditional kindergarten model, they remain firmly aligned with the values that remain important today, a hundred years on.

It seems hard to believe, but we are also five years on… the earthquakes still at the forefront of our minds and its impact on all our communities and our own staff. It is this ongoing commitment to the kindergarten tradition that saw as much focus on maintaining and renewing existing Kidsfirst services, as developing new ones throughout 2015.

It was a very special moment when Kidsfirst Kendal Avenue reopened, following a number of years of post-quake closure.

Kidsfirst was grateful for the generosity of Kendal Avenue Primary School in accommodating the service over the four years that the kindergarten building was out of action. So many communities came to our aid over the post-quake period, reflecting the deep investment and sense of ownership that exists between the two.

The year saw the groundwork laid for Kidsfirst's merger with the Central Otago Kindergarten Association. This was one of a number of kindergarten associations that we have supported over the past few years, as intense commercial competition and a challenging funding environment have continued to make life very hard for smaller operators.

Kidsfirst provided management and educational leadership services to COKA and its seven kindergartens for two years before the Association asked to join forces and come under the Kidsfirst umbrella.


We are fortunate to be in a position to be able to assist, where needed, and we don't hesitate to help where we can. (we are still waiting for our CEO to use that NO buzzer we all saw at the beginning of the year!)

However, sustainability and good organisational practice remain paramount.

The difficult times that Kidsfirst went through in the post-quake period necessitated a lot of change that may otherwise have taken a great deal longer to happen. While that presented challenges, it also fast-forwarded the organisation into growing stronger in a number of areas.

It was gratifying to finally emerge from a 're-active' mode to one of re-activation. This past year we were able to drive our expansion plans and it is a great reflection on the team both at Board and Executive levels.

I am happy to report that, under the ongoing leadership of Chief Executive, Sherryll Wilson, ably supported by her Senior Leadership Team, Kidsfirst is in the best shape possible to deliver high quality early childhood education to today's young learners, and a vibrant option for families into the future.

The Kidsfirst Board remains committed to this fundamental goal. We are very appreciative of our long-term, stable board that has been operating at a very high level, delivering both maturity and fresh thinking in equal parts. This year, we were pleased to welcome Viv Ruth, who brings a wealth of educational sector experience with her.

As I mentioned earlier, one of Kidsfirst's greatest strengths is its culture, reflecting the central role that people, above all else, play. While strategies, systems and processes are vital and important foundations for the success of any effective organisation, it is the people who make Kidsfirst truly special.

The annual At Our Heart Values Awards are a great showcase of our culture shining through in everything we do. The winners we will announce shortly recognise the Kidsfirst people and teaching teams who have gone above and beyond in living out our values.

I am very much looking forward to congratulating this year's winners tonight.

On a more personal note, this will be my last address as Kidsfirst Chair. As per the regulations of our Association's constitution, I have served the maximum full six-year term on our Board, two of those as Chair and am now retiring. Both my colleague Fleur Howard and I will retire having 'served a maximum term' – it seems hard to believe!

It has been a real pleasure and an honour to be part of this Board (and this team) and I leave with many friendships and memories that I will treasure. I have thought about why I was motivated to make this commitment to Kidsfirst… and I want to tell you the reason. The reason is you. You, the teachers here tonight. It was my privilege to have my four children, over 10 years, experience a Kidsfirst kindergarten. I saw the magic with my own eyes… that there is a secret ingredient that makes a great teacher a direction changer in a child's life. I have worked with the Board and strategic leadership team to try and make sure every child gets that same opportunity. YOU guys are quite simply the best of the best. No parent could ask for a better start for a child. So I thank you, thank you for the magic.

So, I have cherished my time with Kidsfirst, and both the opportunities, and challenges it's afforded me. Kidsfirst is truly a unique and special organisation, and one that I'm immensely proud to have been involved with. So many of you will always be close to my heart.

As 2016 takes shape, I am confident that Kidsfirst is an organisation in great shape - and I'm very excited to see the seeds planted this year, begin to blossom and grow into the future.

Thank you."

- Carolyne Grant.

QUICK READ

"...one of Kidsfirst's greatest strengths is its culture, reflecting the central role that people, above all else, play. While strategies, systems and processes are vital and important foundations for the success of any effective organisation, it is the people who make Kidsfirst truly special."

- Carolyne Grant, outgoing Board Chair.

Thank you so much Carolyne for all your hard work and dedication over the past six years as an amazing Board Chair for Kidsfirst Kindergartens.
KIDSFIRST KINDERGARTENS ARE A NOT FOR PROFIT ASSOCIATION THAT HAS DEVELOPED AND MAINTAINED KINDERGARTENS IN CHRISTCHURCH, CANTERBURY AND ON THE WEST COAST FOR OVER 100 YEARS - AS THE PLACE LOCAL KIDS COME TO LEARN, PLAY AND HAVE FUN.