Step back in time in Ōtautahi/Christchurch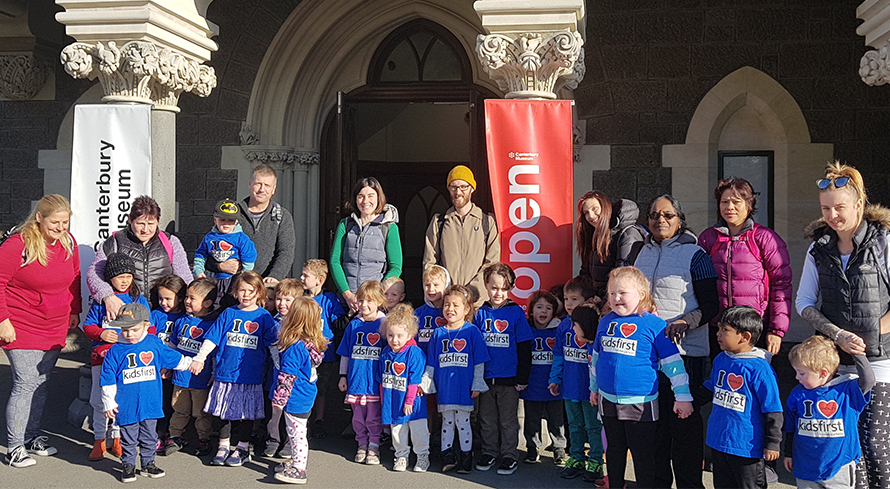 Tamariki took a step back in time exploring the Canterbury Museum, during Kidsfirst Shirley's visit to discover more about early Māori life and what Ōtautahi/Christchurch may have looked like, before European settlement.
Looking up at towering life-like moas, feeling the smooth surface of a huge slab of pounamu and a ride on the Penny Farthing bicycle, were just some of the many highlights of the day, planned as a wrap-up to a whole community discovery into the region's past.
Exploring parts of Canterbury had previously taken the kindergarten on adventures to the Burwood Wetlands, Waikākāriki (Horse Shoe Lake) and Riccarton Bush to see the original lay of the land before Christchurch took shape.

Another time, the kindergarten took a Gondola ride to the top of the Port Hills. Here, in 1850, the first immigrants to arrive in Lyttelton, would have climbed up the Bridle Path and caught their first glimpse of the Canterbury Plains to look out over a very different landscape, to what we see today.
"Our visit to the Museum gave us a visual tour of the early life of Māori as well as the first European settlers to the region and really helped to bring together all of the experiences of our earlier trips," says teacher, Anita Stowell.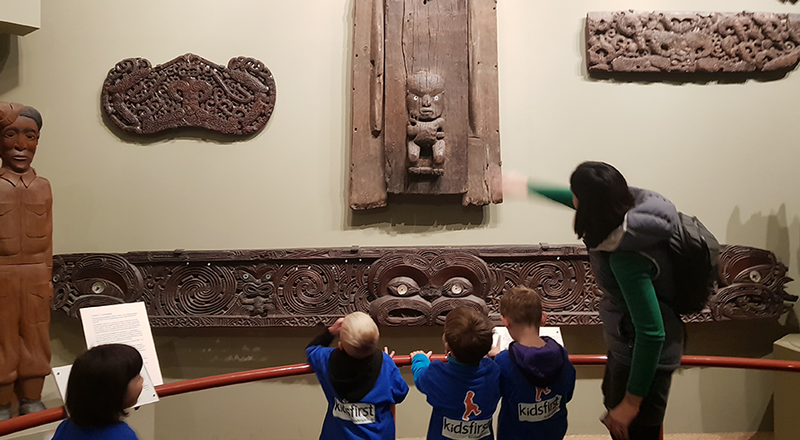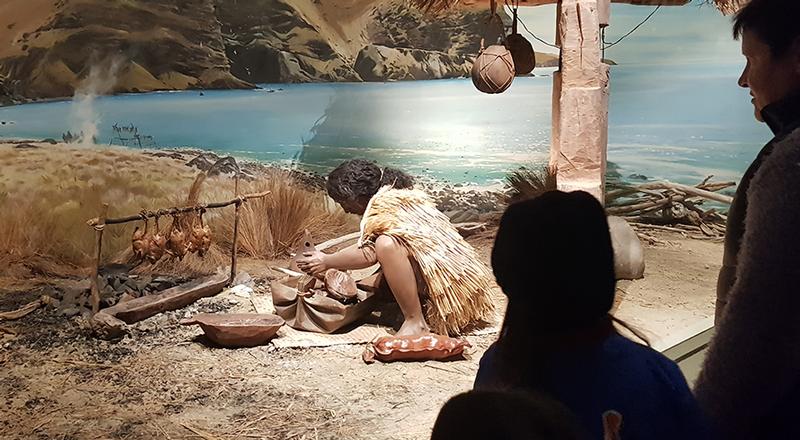 "There were awesome displays to show what life might have been like when there were no buildings or roads, how Māori lived off the land and how the place evolved and developed as immigrants arrived and started building Christchurch."
"We saw of models and skeletons of Moas, New Zealand's extinct, giant, flightless birds," says Anita. "As well as their huge eggs."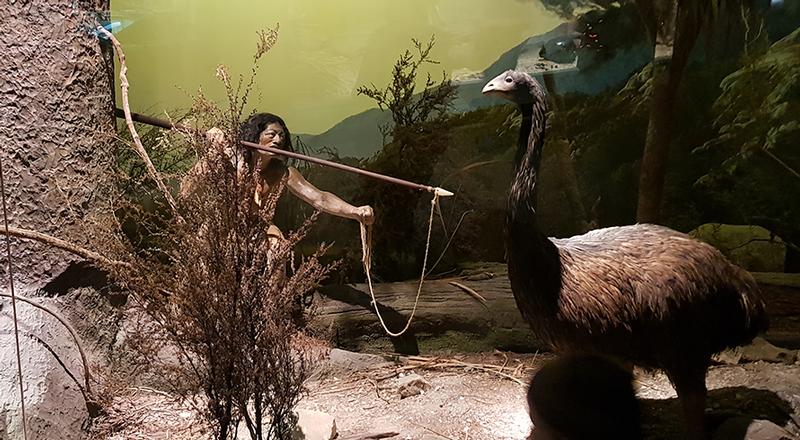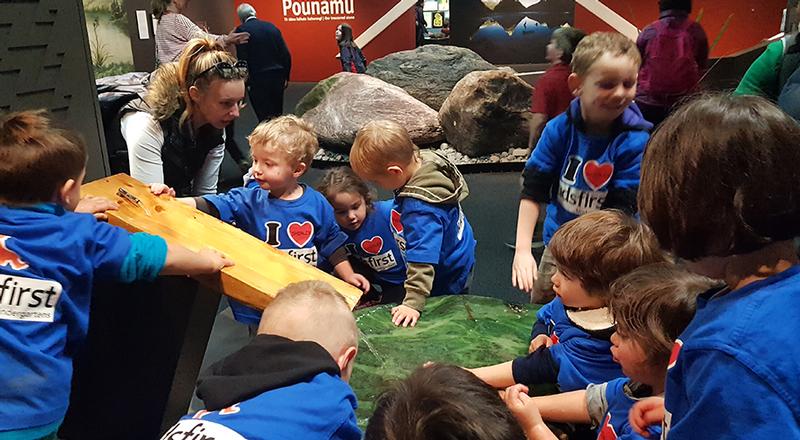 Children were fascinated by a hands-on display of pounamu that gave a tactile experience as well as insight into the importance of the precious stone revered by Māori for its strength and beauty and used for tools and decorative jewellery.
A stroll along the cobbled 'Christchurch Street' with replica shops and businesses helped children to picture a slice of life from the late 19th Century. While the 'Penny Farthing' bicycle was a popular photo stop and a highlight for many.
One child was delighted, "There was a BIG bike that you got to have a ride on!"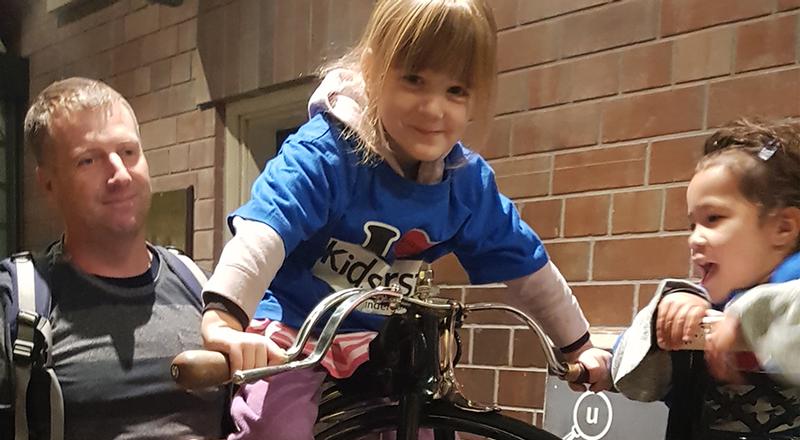 Part of the fun was getting to the museum via the Art Centre. "Wow," said tamariki looking up at the huge coloured stain glass windows of the Great Hall.
"And we loved exploring the cool art work on the Arts Centre Quad lawn, until we realised we weren't supposed to be climbing on them," says Anita. "Oops!"
"Our trip to the museum had so many learning opportunities, including showing manaakitanga (respect) while we were at the Museum and - very importantly – not losing your adult helper!"
What a fantastic day of discovery Kidsfirst Shirley!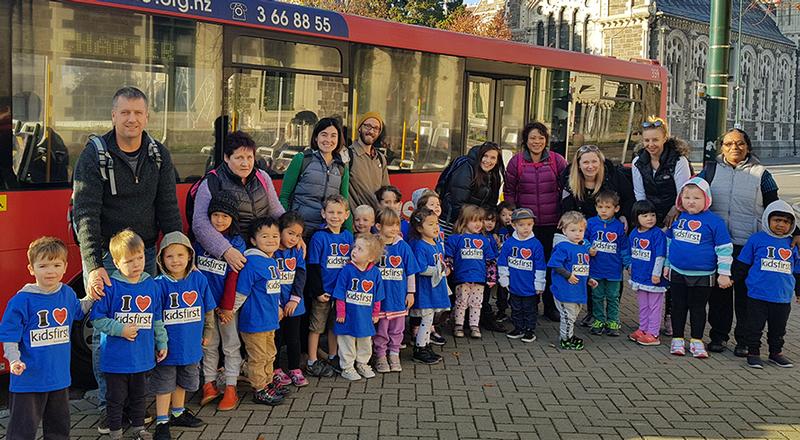 Read more stories...

Nau mai, Tauti mai, Haere mai
Information including that about fees, services and promotional activities were correct at the date of publication of news stories but may since have changed. Please check with us to ensure information is current.