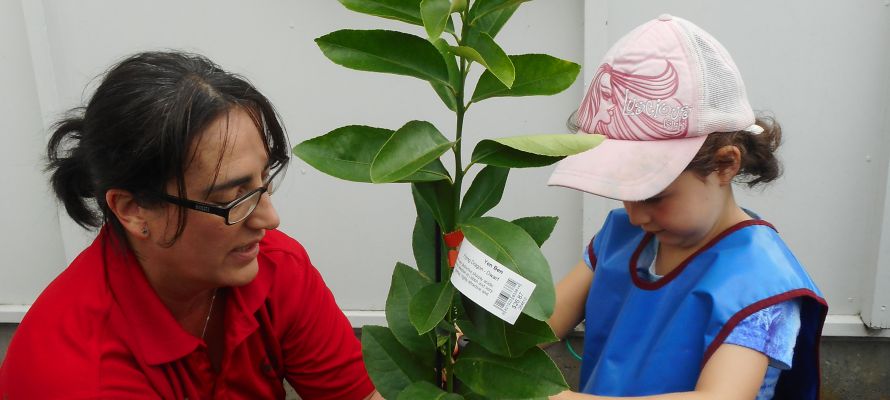 Whānau, Tangata
Involving whānau and our extended communities in learning at kindergarten, is an integral part of children connecting to their wider world.

FIND OUT WHY WE'RE JUST BETTER BECAUSE...

Following a stellar, collaborative effort to tidy up Kidsfirst Vickery Street's garden after the summer holidays, kaiako and tamariki brainstormed what else they could do, to help spruce up their outdoor environment.

Inspired by the children's colourful comments such as, "lots of flowers, more plants, pretty purple flowers (cos my mum loves purple ones) and I love flowers," the teaching team decided to approach the new Bunnings store in Rangiora to help achieve their 'big backyard' dreams.

"Adele from Bunnings generously visited our kindergarten to hear the children share our exciting new landscaping ideas," says Teacher, Jenny Moore. "It was a great way to put a personal face to our new garden project."

"We were excited to count down the days for Bunnings arrival and (thanks to parents) had a special morning tea on offer," says Jenny. "Unfortunately, cyclone Gita decided to hit the day our Bunnings visit was planned!"

On the re-scheduled day, all eyes were on the kindy gate with tamariki full of excitement with every car that went past. "Yay Bunnings are here", they shouted welcoming them into kindergarten.

"We were so proud of the way tamariki ma were so friendly and inclusive to our visitors," says Jenny. And there was so much to show them! "Our profile books, new shoes, a dance routine, artworks."

There were lots of:

"Look at me," "I can do this," "Watch this," and

"My Dad goes to Bunnings."

"What a big day, building, painting, planting, watering and digging - phew did we all work hard!" says Jenny. "Adele and her Bunnings team were so great ensuring tamariki had lots of ways to help out - the whole project was very hands on."

"Our tamariki were incredibly respectful, took turns, used their manners and diligently persisted to help achieve their gardening goal."

"At the days end we all felt a huge sense of pride and achievement and the children were so excited to show their whānau," says Jenny.

The next day they created a wonderful thank you card for Adele and her team, from Kidsfirst Vickery Street.

Me whiri mai te whānau te hapū, te iwi, me tauiwi, me ō rātau wāhi nohonga, ki roto i te whāriki, hei āwhina, hei tautoko i te akoranga, i te whakatipuranga o te
mokopuna.

The wider world of family and community is an integral part of the early childhood curriculum.

Want to find out more about what's happening in other big backyards across the Kidsfirst network?

.

Kidsfirst Kindergartens
Head Office, 43 Birmingham Drive, Middleton, Christchurch 8024
+64 3 338 1303 email: questions@kidsfirst.org.nz
Postal Details: Kidsfirst Kindergartens, PO Box 8089, Christchurch 8440
KIDSFIRST KINDERGARTENS ARE A NOT FOR PROFIT ASSOCIATION WITH OVER 70 KINDERGARTENS AND EARLY LEARNING CENTRES COVERING CHRISTCHURCH, CANTERBURY, CENTRAL OTAGO, BANKS PENINSULA AND THE WEST COAST - AND HAS DONE SO FOR OVER 100 YEARS
- AS THE PLACE LOCAL KIDS COME TO LEARN, PLAY AND HAVE FUN.