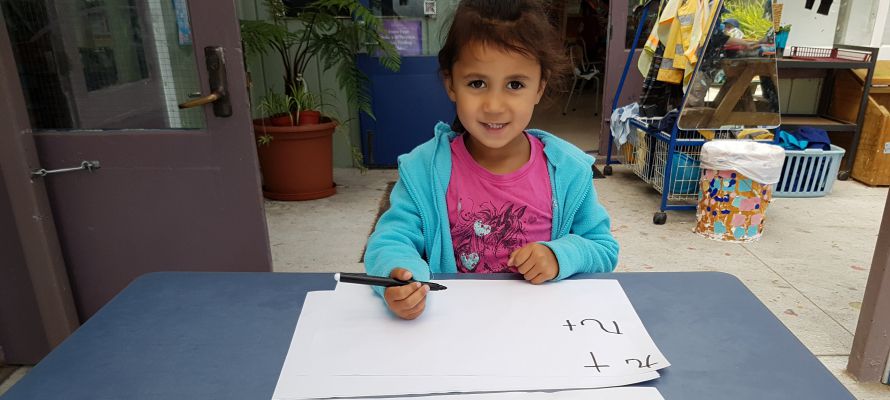 | | | |
| --- | --- | --- |
| | Our teachers are quick to embrace creative ways to explore new learning opportunities, so very often inspired by tamariki themselves. | |
SOME OF OUR TOP STORIES

Kidsfirst Hei Hei's Rhythm (of Māori descent) has a natural flair for writing. She also shows a delightful expectation that learning is fun and that words can amuse, delight, illuminate, inform and excite others.

Rhythm approached Teacher, Ngam Brown and said she would like to try and write in 'China.'

"Do you mean write Chinese?" said Ngam. "What would you like to write?"

Rhythm shrugged her shoulders so Ngam suggested she could write down three Chinese words she knew well, "I love you," to practice writing.

Rhythm smiled and quickly had a go at copying the characters. When Ngam pointed out she'd mistakenly written the second word 'love' with more than three dots, Rhythm counted the dots on her writing, grinned and said, "I love you more - haha."

What a clever play on words!
Kidsfirst Kindergartens
Head Office, 43 Birmingham Drive, Middleton, Christchurch 8024
+64 3 338 1303 email: questions@kidsfirst.org.nz
Postal Details: Kidsfirst Kindergartens, PO Box 8089, Christchurch 8440
KIDSFIRST KINDERGARTENS ARE A NOT FOR PROFIT ASSOCIATION WITH OVER 70 KINDERGARTENS AND EARLY LEARNING CENTRES COVERING CHRISTCHURCH, CANTERBURY, CENTRAL OTAGO, BANKS PENINSULA AND THE WEST COAST - AND HAS DONE SO FOR OVER 100 YEARS
- AS THE PLACE LOCAL KIDS COME TO LEARN, PLAY AND HAVE FUN.