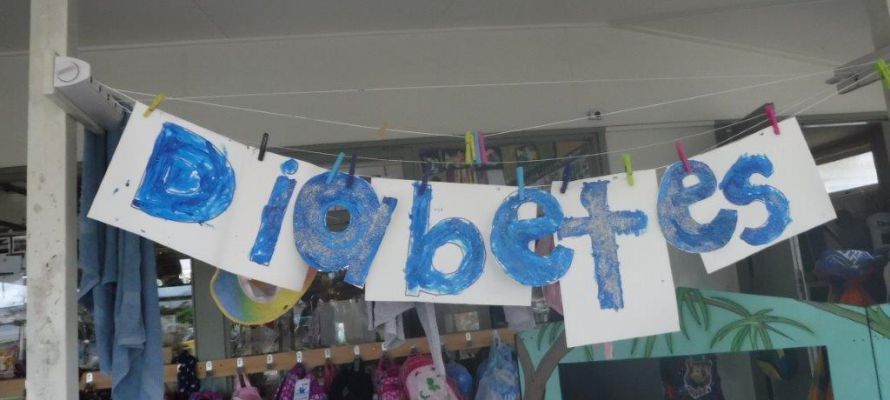 | | | |
| --- | --- | --- |
| | Kidsfirst Karoro's Juke Sturgeon, aged four, is an ordinary kid who faces extraordinary challenges. Juke was diagnosed with type 1 diabetes when he was three and, without a cure, it will affect him for a lifetime... | |
SOME OF OUR TOP STORIES

Type 1 Diabetes is an autoimmune disease where the pancreas doesn't produce any insulin, making the person insulin dependent. It is very demanding and challenging to live with and from a parent's perspective, means continuous, every day management of the highs (Hyperglycemia) and the lows (Hypoglycaemia).

On World Diabetes Day (14th November) Kidsfirst Karoro kindergarten teachers and tamariki dressed all in blue to support Juke and help raise awareness and funds toward "chasing a cure" for the disease.

For a gold coin donation, children coloured their hair and painted their faces in shades of blue, enjoyed balloons and fun blue-themed activities such as squirting cool blue shaving foam onto the painting table to swirl, dab and create with.

Juke introduced his diabetic friend Jerry the Bear. Through story telling using Jerry's App the children were able to role play choosing food and administering a finger prick to understand how their choices might effect Jerry.

Kidsfirst Karoro kindergarten friends (left) dress in blue to support Juke (right) who has type 1 diabetes.


Jukes mum, Rebecca Sturgeon says, "It's important to raise awareness about diabetes because, quite often, diabetes can be misinterpreted and misrepresented throughout the community. Especially, people not knowing the difference between type 1 and type 2 diabetes."

Head Teacher, Tim Eden-Calcott and the team at Kidsfirst Karoro are trained to test Juke's insulin levels at morning tea and lunch time. His parents hugely appreciate and feel reassured by the teacher's willingness to help take responsibility to ensure Juke is healthy and safe at kindergarten.

"As a Mum, all I want to do is protect him. Yes, Juke can run around and play, but this can make his blood sugar drop, making his legs ache and he struggles with his emotions."

Juke wears an insulin pump attached to his stomach and even sleeps with it. Eating is one of the biggest challenges, he loves grapes, raisins, and birthday cake but on the rare occasions he has these treats, his blood sugar can spike (Hypers), making him feel sick and then he can't always participate in activities other kids are doing.

"Hypers can also result in long term damage so I need to be pretty strict," says Rebecca.

Teacher, Raelene Johnson says, "we have a really kind and caring kindergarten community here and it was so great to see such a show of support for Juke at kindergarten."

"All I want for him is to live the healthiest, happiest life he can," says Jukes mum, Rebecca.

THE FACTS:

In New Zealand 1 in 400 children have Type 1 Diabetes.

Type 1 diabetes is an autoimmune disease and is not caused by diet.

Too much or too little insulin can cause sickness, coma or can be life-threatening.

QUICK CHILD FRIENDLY ACTIVITIES:

• Look up the App 'Jerry the Bear'. Jerry has type 1 and the kids can have a go at giving Jerry finger pricks, counting basic carbs and learning about the other facets of diabetes. Jerry is designed for age 3+

• http://lillydiabetes.com/lilly-disney.aspx is a collaboration with Disney and has some short stories about Coco the monkey who has Type 1.
Information including that about fees, services and promotional activities were correct at the date of publication of news stories but may since have changed. Please check with us to ensure information is current.