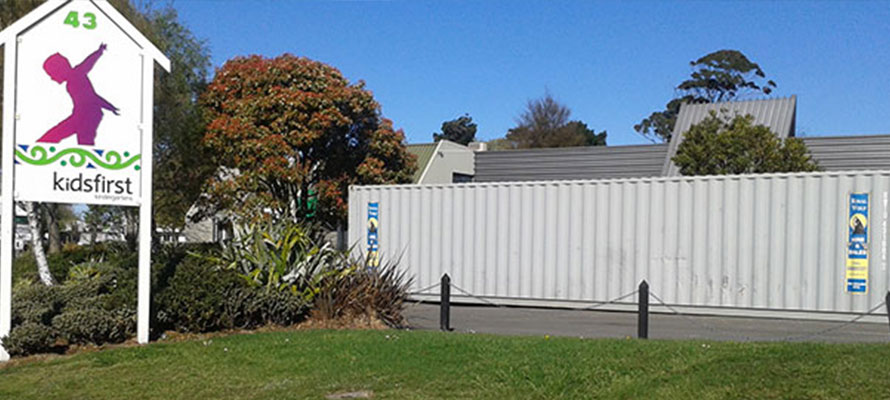 | | | |
| --- | --- | --- |
| | | There has been a mysterious container parked outside Kidsfirst Birmingham Drive.... |
OUR TOP STORIES:

Here at Kidsfirst we don't like anything to go to waste. We teach our tamariki about the importance of recycling, reusing and being a green kiwi and, what better way to teach this than to lead by example.

There is currently, sitting outside our head office, a large 40-foot container that contains a treasure trove of resources for use throughout our kindergartens.

Due to structural damage the Kidsfirst Bassett Street building had to be taken down after the earthquake and anything and everything from it that could fit is now settled inside the container. But not for long!

The team at Head Office are breathing new life into this kindergarten equipment by relocating it to other Kidsfirst kindergartens, including the exciting new early learning centres and kindergartens we have planned.

The movers had a bit of a struggle to find somewhere for the container to sit. They originally put it in Sherryll's car park! But after much negotiation it has found the right spot.

Being a not-for-profit organisation we know how every little bit counts and this is why, anything that is left over will be sent to the Vanuatu Project to help local communities just like ours.

QUICK READ

Finding the best possible ways to make the most of the resources we have is what Kidsfirst is all about. In our head office carpark is a large container stockpiled with equipment from Kidsfirst Bassett Street, to share among other kindergartens.
KIDSFIRST KINDERGARTENS ARE A NOT FOR PROFIT ASSOCIATION THAT HAS DEVELOPED AND MAINTAINED KINDERGARTENS IN CHRISTCHURCH, CANTERBURY AND ON THE WEST COAST FOR OVER 100 YEARS - AS THE PLACE LOCAL KIDS COME TO LEARN, PLAY AND HAVE FUN.