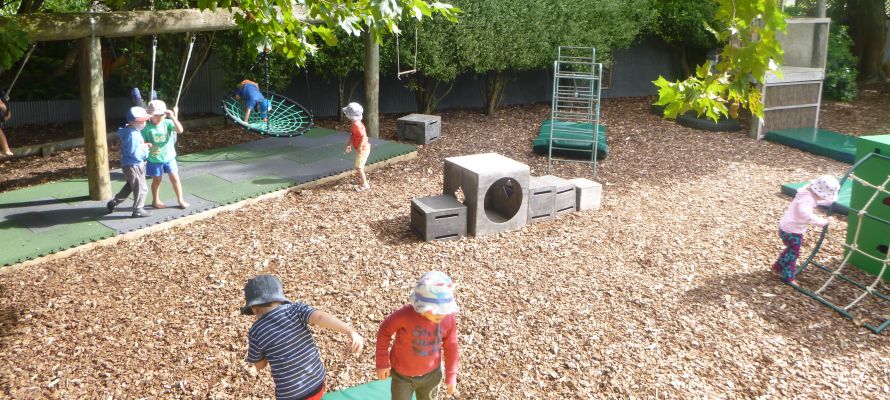 Space to run, explore and play.
We take huge pride in celebrating our GREAT BIG BACKYARDS with plenty of room to move, investigate, explore and develop.

FIND OUT WHY WE'RE JUST BETTER BECAUSE...

We want people to know that this is one of the many reasons a Kidsfirst Kindergarten or early learning centre is BETTER BECAUSE!

Our outdoor environments reflect our bicultural community and are a place where children are encouraged to think critically, enquire and wonder about their world.

Where children are provided with challenges, intellectual stimulation and opportunities to take risks - all appropriate to their age and abilities.

We asked teachers around the network to share just what it is about their big backyards that they love the most.

Kidsfirst Karoro, on the West Coast, had some exciting news from their big backyard this summer…

"There are a whole lot more monarch butterflies/kahuku in our environment now!" says Teacher, Raelene Johnson. "And also around our local houses and gardens."

In recent years they'd only spotted the odd one or two kahuku over the sunny season, but this year monarchs have visited daily!

"The numbers are really growing, and the children are getting to see for themselves the life-cycle of this gorgeous butterfly in action – it's wonderful," says Raelene.

Head Teacher at Kidsfirst Karoro, Tim Eden-Calcott, adds, "As an enviroschool, learning to be responsible for all living things helps us to care for our place now and in the future."

"From exploring bugs in our garden, to tending the vege beds or gathering fruit from our trees - our big backyard is an amazing place to be."

Kidsfirst Mairehau in Canterbury enjoys a beauitiful swing as part of their high activity area, with a natural overview of their big backyard.

Kidsfirst Mairehau's big backyard (above and below) with plenty of space to explore.

"This is further enhanced by a mural on our fence that depicts our place based environment and encourages exploration," says Teacher, Raelene Forde.

"We have a good balance of soft fall and green grass with a variety of physical challenges that allow tamariki to risk take, participate within nature (our big trees) and achieve their own success."

By design, Kidsfirst outdoor environments have always been large and well-resourced areas with interesting spaces for adventure or play.

And this is no different at Kidsfirst Diamond Harbour over on Banks Peninsula. With a panoramic view of the Port Hills from their large deck this centre's big backyard provides all-important opportunities for exploration, adventure and challenge, with the chance to play and inspire the imagination.

"We've recently enhanced our outdoor area with more running space, says Kidsfirst Diamond Harbour Head Teacher, Kirsten MacKay. "Children are really enjoying the extra space on wheels too."

"We love our outdoor environment here at Kidsfirst Woolley St," says Head Teacher Jolene Hemmingsen. "It's spacious and inviting with amazing big trees that capture the changing seasons and provide shelter from the sun when required."

"We have an amazing space where children learn to be Kaitiaki – guardians of the earth, and learn how to care for the gardens, protect the bird and bug life that live alongside us and use the area as a source of kai by growing vegetables and fruits."

"It's a special space for children to grow and learn from. We have space to set up challenge courses, to support small group games that promote friendships to grow - you could say a space for all to enjoy!"

Kidsfirst Woolley Street's beautiful blossom tree in the spring (above).

Overlooking Kidsfirst Woolley Street's great big backyard.

Neroli Gardner, Head Teacher at Kidsfirst Sunbeam shared her ideas about what a big backyard can teach children at kindergarten.

"Playing outside is all about experiencing the world in it's entirity. Our outside world transforms depending on what's happening with the weather or the seasons."

"We head outdoors even if it's raining as the environment has new elements to explore when it's wet," says Neroli. "The earth smells and feels different to our senses," Just add boots, jackets, raincoats and umbrellas.

"It's about extending children too," says Neroli. "Giving children the freedom to explore in our big backyards encourages our future generations to look after and have respect for the land – kaitiakitanga.

.

Kidsfirst Kindergartens
Head Office, 43 Birmingham Drive, Middleton, Christchurch 8024
+64 3 338 1303email: questions@kidsfirst.org.nz
Postal Details: Kidsfirst Kindergartens, PO Box 8089, Christchurch 8440
KIDSFIRST KINDERGARTENS ARE A NOT FOR PROFIT ASSOCIATION WITH OVER 70 KINDERGARTENS AND EARLY LEARNING CENTRES COVERING CHRISTCHURCH, CANTERBURY, CENTRAL OTAGO, BANKS PENINSULA AND THE WEST COAST - AND HAS DONE SO FOR OVER 100 YEARS
- AS THE PLACE LOCAL KIDS COME TO LEARN, PLAY AND HAVE FUN.