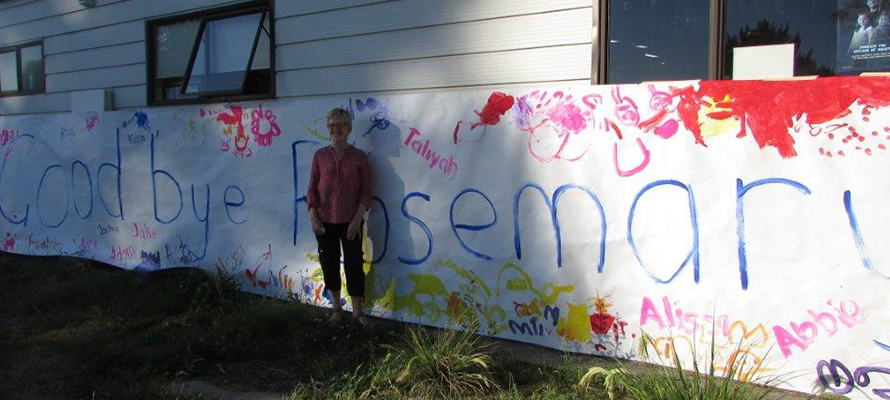 | | | |
| --- | --- | --- |
| | | Kidsfirst Belfast celebrated Head Teacher Rosemary Booth's retirement with a surprise farewell...and a huge hand-painted sign wrapped around the kindergarten! |
OUR TOP STORIES:

Kidsfirst takes great pride in providing the best in teaching standards through our professional, dedicated and passionate teaching teams.

As Head Teacher at Kidsfirst Belfast, Rosemary Booth has brought passion and commitment to her role, for many years. She is now retiring after being with the kindergarten from the very beginning, since it opened in 1993.

To celebrate all of her wonderful years as a truly inspiring teacher, there was a surprise farewell for Rosemary at the kindergarten, a place she is so well-known and loved.

"She is an inspirational teacher, leader and friend," says Teacher Justine Martin-Mckenzie.

Rosemary has been a major part of the kindergarten and community for over 22 years. During this time, she has taught and enriched the lives over 1500 children, giving them the best educational start possible.

"Kidsfirst Belfast just won't be the same without her. She is part of what makes us who we are and deserves everything she is looking forward to in the years to come," says Justine.

Making signs are a tradition for birthdays at Kidsfirst Belfast. In honour of Rosemary the teachers and children created the ultimate sign. It surrounded the whole kindergarten with the words 'Goodbye Rosemary - The best teacher in Belfast.'

"The signs couldn't be missed but we will certainly miss Rosemary," says Justine.

At the farewell were current and past Kidsfirst staff who have worked with Rosemary over the years, as well as her family who all arrived to surprise her.

What a wonderful occasion to celebrate Rosemary, who has played such a significant role in the lives of many.

QUICK READ

Head Teacher at Kidsfirst Belfast, Rosemary Booth has been with the kindergarten since it's beginning. She will be sorely missed now that she is retiring. Past and current teachers, as well as her family, gathered at the kindergarten for a surprise farewell.
KIDSFIRST KINDERGARTENS ARE A NOT FOR PROFIT ASSOCIATION THAT HAS DEVELOPED AND MAINTAINED KINDERGARTENS IN CHRISTCHURCH, CANTERBURY AND ON THE WEST COAST FOR OVER 100 YEARS - AS THE PLACE LOCAL KIDS COME TO LEARN, PLAY AND HAVE FUN.