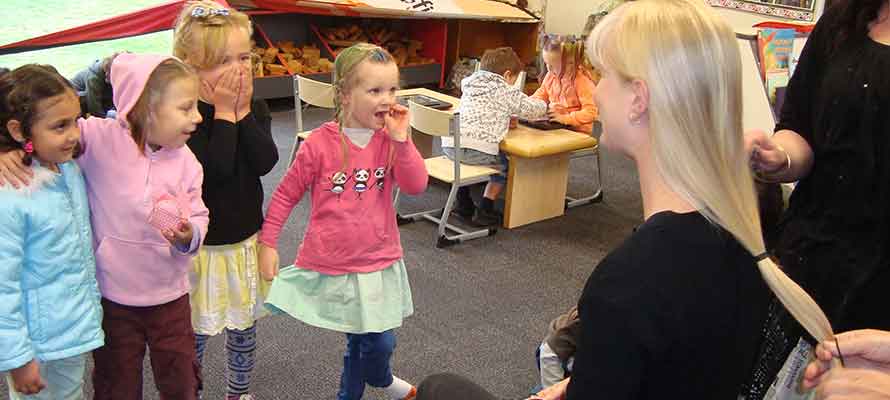 | | | |
| --- | --- | --- |
| | | Abbie Harding really gave everything she had when she donated something special to the charity Beautiful Lengths. |
SOME OF OUR STORIES.

At Kidsfirst Belfast, we're really into trying things for the first time, supporting each other and giving back where we can - that's just the kindergarten way.

As a kindergarten teacher, Abbie Harding's in the right place! This was the perfect place for her to donate her beautiful locks to the Australian charity.

ABOVE: Abbie getting her hair measured by hairdresser Rochelle and fellow teacher Justine Martin-McKenzie.

Abbie has always had long hair and she says, "This is a big deal for me - I've been wanting to do it for the last couple of years! It is exciting... but also really nerve-racking!"

As a 24-year-old, she has never dyed her hair, which enabled her to donate it to Beautiful Lengths, to make into a wig for cancer patients to wear.

Fellow teacher Justine Martin-McKenzie chopped the ponytail, and Rochelle, a local hairdresser and former parent of kindergarten children at Kidsfirst Belfast, tidied up Abbie's hair for her afterwards.

ABOVE: Teacher Justine Martin-McKenzie and Head Teacher Rosemary Booth joined in the wacky hair day.

To celebrate Abbie's bravery, every child wore wacky hair, so that morning at the kindergarten there were butterfly clips, green and pink hairspray, mohawks, twirly plaits, hair gel and lots of ribbons and clips to hold eveything into place.

Head Teacher Rosemary Booth, together with Rochelle, engaged the children in conversations about who had been to the hairdressers before, and what it felt like to get your hair cut.

Abbie hasn't had hair that short "for many, many years", and had great encouragement from the children, who'd never seen anything like this.

ABOVE: The team at Kidsfirst Belfast with Abbie in the middle, sporting her new haircut!

QUICK READ

Abbie Harding from Kidsfirst Belfast donated her hair to a charity that makes wigs for cancer patients.

Behind Pantene Beautiful Lengths

Approximately 5,000 women and men across Australia and New Zealand have made the kindest cut of all to donate their ponytails to Pantene Beautiful Lengths.
Hundreds of donation parties have been held across Australia and New Zealand since the campaign launched.
Hundreds of wigs have been distributed to women across Australia and New Zealand since June 2013.
KIDSFIRST KINDERGARTENS ARE A NOT FOR PROFIT ASSOCIATION THAT HAS DEVELOPED AND MAINTAINED KINDERGARTENS IN CHRISTCHURCH, CANTERBURY AND ON THE WEST COAST FOR OVER 100 YEARS - AS THE PLACE LOCAL KIDS COME TO LEARN, PLAY AND HAVE FUN.