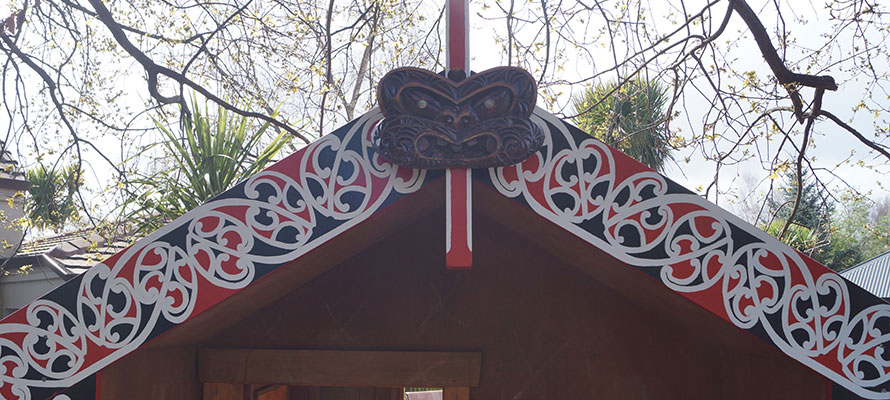 | | | |
| --- | --- | --- |
| | | When thinking about a kindergarten environment and how this can affect children who spend their days there, our teachers are as resourceful and creative as possible. |
OUR TOP STORIES:

One of the many things that you may spot in a Kidsfirst Kindergarten's backyard, amongst the native trees and animals, vegetable gardens, chicken coops or sandpits, is a whare.

Kidsfirst Beckenham recently held a very special whare blessing. Two years in the making, teachers Helen Peters and George Pearce, along with Head Teacher Jill Peters, were rapt that it could finally happen.

ABOVE: The whare, with its tekoteko still covered.

What originally seemed like an insurmountable challenge turned into a real example of community engagement. The team originally looked to purchase a pre-fabricated whare from a catalogue, but then in conjunction with their Parent Group, decided to modify a playhouse plan offered by Mitre 10.

A husband and wife at Kidsfirst Beckenham are architects, and together they redesigned a unique whare, especially for the kindergarten. They were also responsible for the painted kowhaiwhai on the maihi (bargeboards).

Another kindergarten parent, who is a builder by trade, oversaw the project and gave a lot of his time to construct the whare which happened in stages and in conjunction with a working bee.

Learning that the permits had come through, all three teachers got right to work with the children, decorating the garden for its arrival.

Over the last few months, they have all been busy, planting native hebe, creating special tiles as a pathway around the whare, and placing stones in the shape of a whale's tail at the entrance.

ABOVE: The blessing ceremony.

It all came together in a special blessing ceremony, which the children and families were invited to alongside a parent luncheon.

ABOVE: The whare, with its tekoteko being revealed.

ABOVE: Teacher Helen Peters leading 'Te Hora Nui'

A local tohunga came to bless the whare, along with Richard Herangi-Harrison, a relative of one of the children and regular collaborator on the project. Richard talked the teachers through designing the kowhaiwhai patterns on the bargeboards (maihi), and gifted Kidsfirst Beckenham the tekoteko (carved figure above the meeting house) as their kaitiaki (guardian).

ABOVE: The shared lunch together afterwards.

ABOVE: Mr. Herangi-Harrison receiving a picture gifted to him.

QUICK READ

A whare is a small house, usually just one room with open windows and a door frame. They are places of learning, gathering, and respecting Māori culture in our kindergartens.

When a whare is built, our kindergartens have special blessing ceremonies, thanking friends and whānau for the work they did in putting together the whare, and blessing it for the children's use in the future.

Learning Outcomes

Children have a wonderful new place to explore, create and play.
Strengthen links to the bicultural curriculum of Te Whāriki.
Teaches everyone how communities can all work together to complete a project.
KIDSFIRST KINDERGARTENS ARE A NOT FOR PROFIT ASSOCIATION THAT HAS DEVELOPED AND MAINTAINED KINDERGARTENS IN CHRISTCHURCH, CANTERBURY AND ON THE WEST COAST FOR OVER 100 YEARS - AS THE PLACE LOCAL KIDS COME TO LEARN, PLAY AND HAVE FUN.