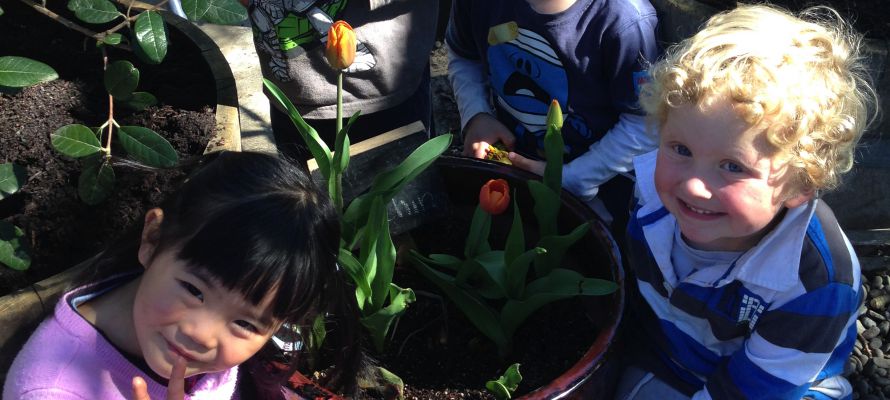 | | | |
| --- | --- | --- |
| | Kidsfirst Sunbeam have planted tulips to mark the anniversary of a special trip to Kurashiki, Japan, to formalise a sister city relationship with Asahi Kindergarten... | |
SOME OF OUR TOP STORIES

Just like the relationship between the two kindergartens, these flowers have bloomed in a fantastic way and symbolise their connection.

"When we discovered a tulip variety called 'asahi' we couldn't resist planting some bulbs to watch grow at our kindergarten and to remember our friends in Japan," says Kidsfirst Sunbeam Head Teacher, Neroli Gardner.

The Japanese word 'asahi' translates to 'morning sun' and describes the vibrant red and yellow colours of a sunrise. The children nurtured the plants and were very excited to see them flourish.

This all stems from a visit in May of last year, when Kidsfirst Sunbeam hosted the owners of the Asahi Kindergarten (a husband and wife team) who were visiting a number of early learning centres around New Zealand and Australia.

As a result of that trip, Kidsfirst Sunbeam was asked to become a 'sister city' kindergarten with the Japanese centre.

"We felt overwhelmingly humbled, privileged and proud when our kindergarten was offered a sister city arrangement with Asahi Kindergarten," says Neroli.

Sister city relationships enhance links between world communities, organisations and businesses and foster "communication across borders" with a "mutual exchange of ideas." She says that this integrates brilliantly into their educational approach and the wide-ranging experiences the kindergarten provides for tamariki/children.

"Our Asahi Kindergarten visitors liked what they saw here and they understood what we do," says Neroli. "They were impressed with the way our children were fully engaged in their learning and that there was time for sustained and uninterrupted play. They were wowed by the interesting spaces for exploration and self-discovery, that we create."

Those disciplines come from Kidsfirst Kindergartens' commitment to providing the best start for young learners with quality early childhood education and 100% qualified teachers. The visitors were likewise impressed by the way the passionate teachers weave New Zealand's bi-cultural early childhood curriculum - Te Whāriki - into learning.

This led to something quite special that epitomized the exchange of cultures, in a gift of song. "A beautiful moment was when a one hundred strong group of Asahi Kindergarten children sang the traditional Māori song, Pokarekare Ana, for us," remembers Neroli, referring to the Asahi Kindergarten's 40th birthday celebrations which she attended together with Kidsfirst Education Services Manager, Rebecca Chatwin.

During the week-long visit hosted by the kindergarten, they commemorated their partnership by signing a sister city agreement, exchanging gifts and planting a tree. They also met local city councillors, visited other ECE services and enjoyed the local sights.

On a professional level, Rebecca and Neroli observed, "A few differences in our teaching styles (noting that Japanese kindergartens have a more formal style) but mostly very striking similarities."

Japan has a holistic concept of kindergarten care and education called "hoiku" that dates back 130 years. Hoiku acknowledges the importance of quality early childhood education and adheres to a strong set of values, which fits perfectly alongside the values of Kidsfirst.

"The connections between the Japanese philosophies and ours were so similar, focusing on the best start to lifelong learning for all children," says Rebecca.

Another wonderful comparison was that, be it in Japan or New Zealand, young children still love to do the same things – hunt for bugs, dance and play. And it made them both smile to notice some of the very same favourite children's picture books (such as Brown bear, brown bear translated into Japanese) on their bookshelves.

"Our invitation to be a part of Asahi Kindergarten's 40th birthday celebrations was such a wonderful opportunity for both Rebecca and myself and we felt truly humbled and privileged to attend," says Neroli.

"We're currently getting a Christmas parcel together for our friends in Japan with New Zealand books, festive stories, a calendar and stickers. The package will include our very own Kidsfirst Sunbeam book full of stories and artwork documenting our kiwi kindy life."

Of course, there will also be photos of the tamariki/children alongside their asahi tulips.

Kidsfirst Kindergartens
Head Office, 43 Birmingham Drive, Middleton, Christchurch 8024
+64 3 338 1303 email: questions@kidsfirst.org.nz
Postal Details: Kidsfirst Kindergartens, PO Box 8089, Christchurch 8440
KIDSFIRST KINDERGARTENS ARE A NOT FOR PROFIT ASSOCIATION WITH OVER 70 KINDERGARTENS AND EARLY LEARNING CENTRES COVERING CHRISTCHURCH, CANTERBURY, CENTRAL OTAGO, BANKS PENINSULA AND THE WEST COAST - AND HAS DONE SO FOR OVER 100 YEARS
- AS THE PLACE LOCAL KIDS COME TO LEARN, PLAY AND HAVE FUN.