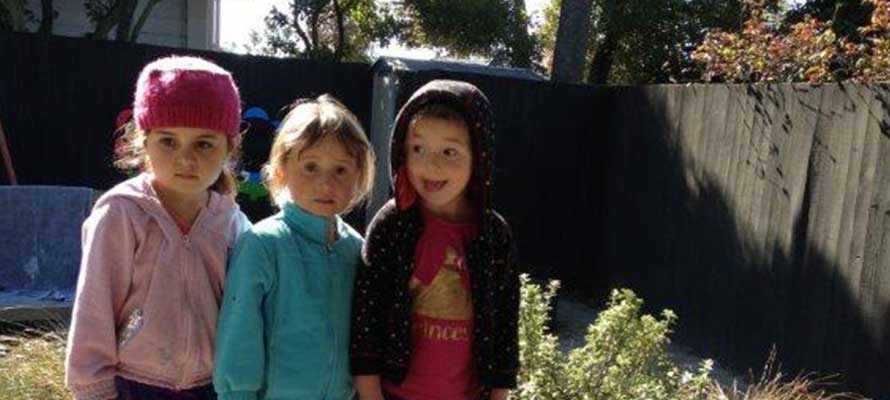 | | | |
| --- | --- | --- |
| | | Living the ANZAC spirit at Kidsfirst Hornby... |
OUR TOP STORIES

NEWS FROM AROUND

CENTRAL OTAGO

In 1914, just over one million people lived in New Zealand – 103,000 of them served overseas in WW1 – that's over 10% of the population who helped out! Kidsfirst Hornby created an ANZAC memorial garden as a peaceful spot to remember them.

Within the surrounds of the kindergarten's outdoor area – alive with nature and the sound of children exploring – this triangular patch of garden has an air of solemnity and respect.

It features New Zealand natives – a Pittosporum tree and flaxes – and three white crosses, each bearing a name in honour of a fallen soldier or nurse.

The crosses were sent to the kindergarten by the Ministry of Education as part of the Fields of Remembrance initiative. They are a silent reminder of heroes who died fighting for the freedom of future generations, and now, when looked upon, they reinforce never to take peace and safety for granted.

Caption: Kidsfirst Hornby children, Roison, Hope and Faith, put crosses into the ground to commemorate the service and sacrifice of two notable Kiwi soldiers and one nurse.

Head Teacher, Bernadette Dawson says, "In creating our Field of Remembrance garden, the children have gained an understanding of a significant part of New Zealand's history. It's a place the children had a hand in creating, and can revisit to reflect and remember what we've learned about the ANZACs."

A space develops meaning for children when they build an appreciation of its history and have the chance to be involved. Reading ANZAC story books, learning the National Anthem and discussion were all part of Kidsfirst Hornby's teaching in the lead-up to that frosty morning of dawn services around the country. Planting the garden came later, when children helped to dig holes, prepare the soil and place the tree, and crosses into the earth.

"The children are enjoying the responsibility of watering the tree, so that it will continue to grow over the years and generations of children to come can continue to care for it as both a symbol of strength, and of New Zealand," explained Bernadette.

In the war, many soldiers joked that they could pick an ANZAC (member of the Australian and New Zealand Army Corps) by their spirit. They were known for their comradeship, compassion, courage and commitment – with a good dose of humour and larrikinism.

So much of what makes kindergarten special is built on very similar traditional Kiwi values – an inclusive culture at the heart of our communities. That's why we take the time to remember those who paved the way for a safe upbringing of our children today.

The crosses the kindergarten received told the stories of:

9/523 SGT. R.C. Travis VC, DM, MM, CdG

Nothing seemed to frighten Dick Travis. He was New Zealand's most famous solider of the First World War. He was awarded the Victoria Cross, the Distinguished Conduct Medal, the Military Medal, and the Croix de Guerre.

The space between the two enemy armies was called "No-Man's Land" and Dick Travis was called the "King of No-Mans Land" – he would creep across it in the dark, checking where the enemy was and what he was doing. He was usually to be found in the thickest of fighting but was very untidy and not a model parade-ground soldier.

In July 1918 he was killed by artillery fire. Tearful soldiers spread the word through the trenches "They've got Dick."

22/125 S/Nurse N.M. Hildyard

Nona Hildyard was from Lyttleton – she volunteered to nurse Kiwi soldiers fighting in Gallipoli.

Around 550 New Zealand nurses served overseas during the First World War. They worked in dangerous places and nursed soldiers suffering from terrible wounds. They had to wear uncomfortable uniforms with lots of petticoats and a veil to cover their hair.

On 23 October 1915 Nona was on board a ship called the Marquette, transporting troops and a New Zealand medical unit to Greece. The ship sank when it was hit by a German torpedo and Nona was one of 10 nurses who died. A survivor wrote to Nona's mother – "Nonie was very bright and cheerful singing "Tipperary" and helping to get the others' courage up... But she died from exhaustion... We all miss her awfully – she was such a good pal."

10/127 2/LT. T.M.P. Grace MiD

Thomas Marshall Percy (Hami) Grace was born at Pukawa, Lake Taupo. His maternal grandfather was the Ngati Tuwharetoa Paramount Chief Te Heuheu. His paternal grandfather was The Rev. Thomas Grace, of the Church Missionary Society.

Hami went to Wellington College. He was a talented sportsman. He played cricket, and rugby for the New Zealand Māori teams that toured New Zealand in 1911 and Australia in 1913. He was a very good shot and became a sniper on Gallipoli. His bravery was recognised with an award. He was killed on 8 August 1915 as the Wellington Battalion seized the important hill called Chunuk Bair.

QUICK READ

A contemplative patch now stands strong among the hive of activity that is Kidsfirst Hornby's outdoor area.

Next to the native plants, the garden proudly displays three crosses representing two notable Kiwi soldiers and one Nurse who served in WW1 with valiant ANZAC spirit.

The children have been learning about the significance of ANZAC Day in New Zealand's history - reading story books, learning the National Anthem and through discussion.

Planting the garden involved digging, preparing the soil and looking after the plants. It was the children's small tribute to all that these soldiers sacrificed for future generations of New Zealanders.
KIDSFIRST KINDERGARTENS ARE A NOT FOR PROFIT ASSOCIATION THAT HAS DEVELOPED AND MAINTAINED KINDERGARTENS IN CHRISTCHURCH, CANTERBURY AND ON THE WEST COAST FOR OVER 100 YEARS - AS THE PLACE LOCAL KIDS COME TO LEARN, PLAY AND HAVE FUN.