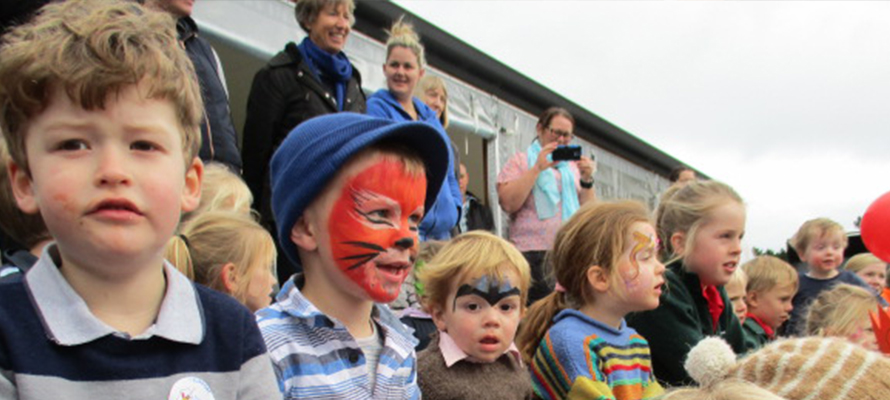 | | | |
| --- | --- | --- |
| | Teamwork and collaboration is key to so much of what happens at kindergarten and our teachers take great pride in being part of a passionate teaching team. | |
SOME OF OUR TOP STORIES

Every day teachers inspire and are inspired by each other.

Whether its bouncing around fantastic ideas or exploring new exciting ways to learn, play and have fun – it's always with the children in mind and at the heart of amazing learning.

It's no wonder teachers often talk about having, "so much respect, warmth and friendship for their colleagues."

When Kidsfirst Maniototo Teacher, Theresa Souness was unable to make the kindergarten's 5th birthday party (due to family commitments) – the teaching team thought of a great way she could still feature in the celebrations.

"Theresa has been part of our teaching team the longest and we knew tamariki would miss her at the party," says Head Teacher, Deb McNally. "So we popped up lots of photos of her all around the kindergarten, so she was still there in spirit!"

Meanwhile, kindy kid Laura Paterson (born just 4 days before Kidsfirst Maniototo first opened) was excited to be a big part of the celebrations so close to her own special day. Her colourful cake artwork featured on the printed birthday invites - a design then cleverly brought to life by the cake maker.

Guests included past kindergarten children now at school, parents and whānau (past and present), Establishment Committee members, past teachers, Association staff and people from the local community. Rebecca Chatwin (ESM) flew in from Christchurch to join in the fun and and recently retired Kidsfirst Cromwell, Head Teacher, Wendy Scully was also in attendance.

"We had an awesome, high energy, special day with a crowd of close to 100," says Deb, "with lots of fantastic community connections."

"Thank you to our fantastic teaching team who helped make the day such a success," says Deb, "and to our kindergarten whānau – we couldn't have done the beautiful decorations - or the sausage sizzle - without you!"

Ehara taku toa I te toa takitahi engari he toa takimano

My strength is not that of an individual but that of the collective.
Information including that about fees, services and promotional activities were correct at the date of publication of news stories but may since have changed. Please check with us to ensure information is current.