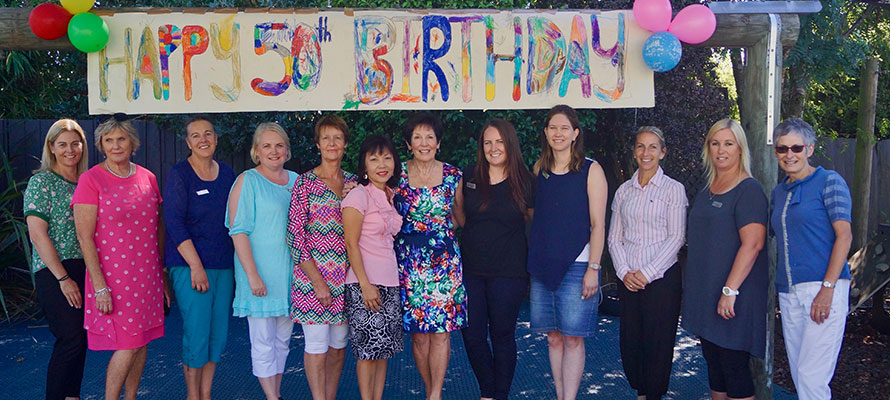 | | | |
| --- | --- | --- |
| | Happy birthday to Kidsfirst Isleworth kindergarten, who held a fun day of community celebration to commemorate a fantastic fifty years open... | |
SOME OF OUR TOP STORIES

The Kidsfirst Isleworth teaching team; Deborah Alexander (Head Teacher), Judy Morton, Sarah Jones and Charlotte Besley, gave a warm welcome to past and present children, teachers, parents and families to share birthday cake, party food, balloons and lots of fun reminising.

"It was a real honour for me to be a part of the day's events," says Deborah. "I've only been here a few months, but I know there are so many wonderful teachers, that have worked so hard and so passionately over the years to establish this amazing kindergarten community."

The celebration was a real homecoming for many special guests including previous Head Teachers Barbara Morton and Jill Papps. Yvonne Holmes, who worked as a kindergarten teacher for 32 years and current teacher Judy Morton (with Kidsfirst Isleworth 24 years), were just some of the many beautiful connections in the crowd.

"The relationships are at the heart of this place," says Judy. "It's wonderful to celebrate fifty years, to sift through all of our old photographs and to see all of the positive changes that have helped to make this kindergarten the special place that it is today."

To mark the occasion, Kidsfirst CE Sherryll Wilson unveiled a plaque next to a newly planted apple tree, and ESM Kathryn O'Connell-Sutherland gave a heartwarming speech to thank everyone for their contribution toward such a lovely occasion.

And as is Kidsfirst tradition, the oldest kindy kid Stacey Lee (four) and the youngest Beau-Eloise (two) helped to slice through the decorative, chocolate cake, to the lively tune of a rā whānau (happy birthday).
Information including that about fees, services and promotional activities were correct at the date of publication of news stories but may since have changed. Please check with us to ensure information is current.